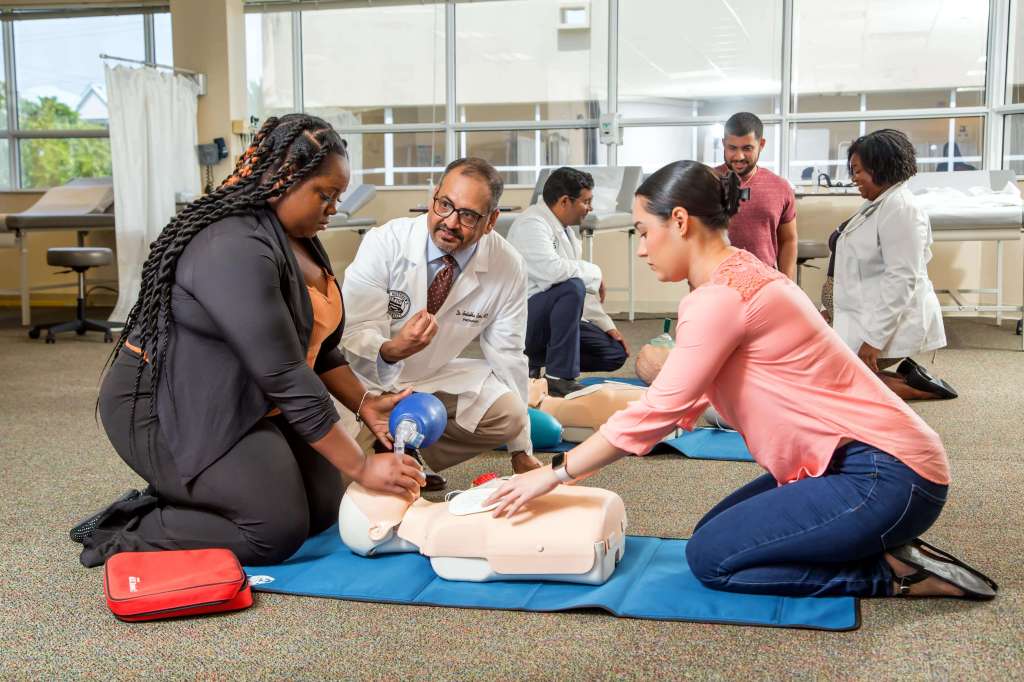 Canadian Applicants
Get in touch for more information
Consistent Successful Student Outcomes
St. Matthew's University School of Medicine has established itself as a global leader for medical education, attracting talented students from around the world. We take pride in our diverse community of students, alumni, and faculty from over forty countries, including many from Canada.
Over the last two years, all of our graduates have successfully secured residency placements*. This remarkable accomplishment can be attributed to the exceptional faculty at St. Matthew's University School of Medicine as well as the skills and work ethic of our students. With small class sizes and a student-to-faculty ratio of 7:1, our faculty provide personalized instruction, which has proven to be highly effective.
Some of the Canadian locations where our students train include:
Queen Elizabeth II Ambulatory Care Centre, Alberta, Canada
St. Michael's Hospital, Ontario, Canada
Bayshore Neurology Center
Booth Neurology Center
Medical Centre for Integrated Health Family and Women's Medicine
OliveMD Medical Centre
Carrot Health Centre
Bramalea Medical Centre
Strandherd Crossing Medical Centre Nepean
Vaughan Sleep Disorder Centre
CBI Health Nepean
Pembroke Regional Hospital
*The two-year residency placement rate is the percentage of students attaining a residency position out of all graduates or expected graduates in 2022-23 and graduates in 2021-22 who were active applicants in the NRMP match or attained a residency outside the NRMP match. 
In Their Own Words – Canadian Student Testimonials
My time at St. Matthew's has been a wonderful experience. Class sizes are small. The professors are wonderful, extremely knowledgeable and helpful.
Admissions Requirements
Check out the entry requirements for all our programs at St. Matthew's University School of Medicine.
Start Dates
St. Matthew's University has three start dates during the year: January, May and September
Canadian Scholarships
We offer scholarship opportunities to support Canadian applicants in financing their education.
Canadian Citizens Grant*
$40,000 USD generally disbursed over ten semesters depending upon award criteria and directed against tuition only.
Canada Merit Scholarship*
| | | |
| --- | --- | --- |
| Canadian Faculty Scholarship | Based on academic credentials and approval of the Scholarship Committee. | $10,000 |
| Canadian Dean's Scholarship | GPA of 3.00 – 3.49 or an MCAT score of 488 – 504. | $60,000 |
| Canadian President's Scholarship | GPA of 3.50 – 3.69 or an MCAT score of 505 – 509. | $75,000 |
| Canadian Future Physician's Scholarship | GPA of 3.70+ or an MCAT score of 510+. | $100,000 |
*Effective for students matriculating during or after January 2024
Financial Aid for Canadian Students
Canadian students are eligible for Federal Loans through the Ministry of Education Student Support Branch in the province of residence. (For example, Ontario residents are eligible for an OSAP loan.) Students may apply for up to 52 weeks of financial assistance annually. Canadian students should contact their individual province directly for information regarding additional requirements. St. Matthew's University school code is: NUBQ.
Additional information may be available from the provincial and territorial student financial assistance offices:
Get in touch for more information