Alexandra Spirou
Read the full testimonial of SMUSOM alumni Alexandra Spirou, Scholarship Recipient, who shared her experience at St. Matthew's University.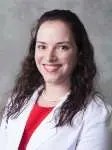 I am excited to be finishing my basic science curriculum in Grand Cayman and am very grateful to have received the Jha Family Scholarship. I grew up in Windsor, Ontario, Canada and have had numerous opportunities throughout my time in Windsor and Grand Cayman to take on many leadership roles. My strong work ethic, passion for medicine, and the curiosity and tenacity to challenge what I know has helped me grow as a person and hone my leadership skills. For as long as I can remember I have been a hard-working student and have always been eager to achieve my goals and dreams.
When I was in high school I volunteered at Hotel Dieu Grace Hospital in their renal dialysis unit, cardiac care unit and outpatient care. While I was studying biological sciences at Wayne State University, I had the chance to work as a student research assistant in the biochemistry department of Wayne State's Medical School. I also had the chance to be the female lead in a student film at Wayne State University and choreographed several productions at a local theater company.
Since I've been at St. Matthew's University, I've explored many avenues to take on leadership roles as well as help my fellow students.
I have been a member of SMUSOM's student government association (SGA) and have acted as a term 1 representative (Fall 2015), director of athletics (Winter 2016), secretary (Summer 2016), and SGA president (Fall 2016). I've also been chosen to participate in St. Matthew's University's "Research Day". My research project was about novel treatments for type II diabetes mellitus and whether their side effects are worth the risks.
Since my second semester I've been a teaching assistant for Developmental and Gross Anatomy and Histology and Cell Biology. I've loved working with other students and helping them to have a better understanding of the vast amount of material they have to learn. I also participated in a Cayman Islands Health Fair, where I took blood pressures of local people to help them assess their risk of heart disease.
I'm so thankful for all the wonderful opportunities I've had at St. Matthew's to learn, lead and grow as a student and as a person.
Truly I believe I have the power to make a difference as a future physician, as do all students studying at St. Matthew's University, and I will endeavor to continue to make a difference in the lives of others.