David Taing
Read the full testimonial of St. Matthew's University School of Medicine alumni, Dr. David Taing, who shared his experience at St. Matthew's University.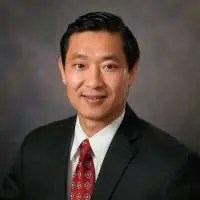 The American Health Council, which is the nation's only organization with a constituency representative of all sectors of the healthcare industry, has elected Dr. David Taing (2002) to its Board of Physicians.
Dr. Taing's interest in the medical field began when he was just a child. He was born in Battambang, Cambodia, and was frequently ill throughout his childhood. At 6 years old, while at a Thailand refugee camp, he was sponsored by an American family from Massachusetts and relocated to the United States. He was immediately immunized upon his arrival in the U.S., and after multiple treatments, he recovered from his recurring illnesses. Although his illnesses were difficult, the experience made him realize that he wanted to pursue a career in medicine to thank doctors and nurses who helped him recover when he was most in need.
Dr. Taing began his rigorous academic training at Tufts University, and earned a bachelor's degree in biology and environmental studies in 1994. He then pursued his doctorate in chiropractic at the Palmer College of Chiropractic's West Campus in 1997, and finally earned his medical degree at St. Matthew's University School of Medicine in 2002, where he primarily focused on family medicine, sports medicine, and chiropractic care.
At the Northwest Florida Community Hospital, Dr. Taing provides services in the family and sports medicine sector of the clinic daily. Several doctors and ER physicians often consult Dr. Taing regarding fracture injuries, treatment and management. He also spends each day with his patients, tending to their injuries, including bone issues and fractures.
Among his many accomplishments, Dr. Taing was the recipient of America's Top Family Doctors Award in 2009 and 2010 from the Consumer's Research Council of America. He was named Family Medicine Resident of the Year in 2006 by the South Carolina Academy of Family Physicians and received the Team Physician Award from the Albany State University Golden Rams. He also served as a team physician for several local Florida high school teams such as the Chipley Tigers and Vernon Yellow Jackets. He even had the opportunity to work professionally with the Atlanta Falcons, World Wrestling Entertainment, and the Association of Volleyball Professionals.
Although Dr. Taing's list of awards continues to grow, his greatest accomplishment has been his marriage to his wife, Marlene, and having the experience of raising their 3-year-old son, Matthew, together. Additionally, Dr. Taing is incredibly proud of his mission trips to Haiti, as he often devotes his time to aid others.
Dr. Taing has aligned himself with several medical associations such as the American Academy of Family Physicians, the Florida Academy of Family Physicians, the American Medical Society for Sports Medicine, and the American Medical Directors Association — The Society for Post-Acute and Long-Term Care Medicine.
In his spare time, Dr. Taing enjoys running, reading, traveling, fishing, and other sports such as table tennis, basketball, and football. Within the next few years, Dr. Taing plans to focus on the growth of his practice. He wishes to further advance himself and his clinic so that they may produce the excellent quality health care he believes his patients are entitled to.