James Bolland
Read the full testimonial of St. Matthews University School of Medicine alumni, Dr. James Bolland, who shared his experience at St. Matthews University.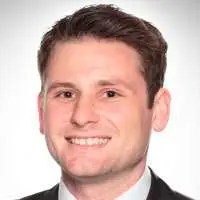 My name is James Bolland and I am an aspiring family physician and graduate of the St. Matthew's University School of Medicine (SMUSOM). Prior to my acceptance at SMUSOM, I was a practicing pharmacist in the UK. Currently I am a family medicine resident physician at University of Pittsburgh Medical Centre (UPMC).
My time at SMU was a worldwide journey; studying two years of basic sciences on the island of Grand Cayman, then completing my clinical rotations in the USA as well as the UK. When I told my family and friends that I was going to study in the Caribbean, the most common response I received was to tell me how jealous they were that I would spend the next few years relaxing in a tropical paradise. While I maintain that medical school was not at all relaxing, I cannot deny that Cayman was a beautiful place to study; safe and warm all year round.
My time in Cayman allowed me to learn a lot about myself and others. Experiencing what its like to be a guest in another's country and adjusting to life in a different culture, I feel, made me into a more well-rounded individual, and a more open-minded doctor, with a fascinating story to tell.
When you get to Cayman, you form bonds with your peers, whom ultimately become the foundation of a solid support network. The strong friendship that my friends and I created on the island is one of the reasons I persevered to be in the position I am today. Students are encouraged to help each other academically, as evidenced by the tutoring program taught by students for students, student-run workshops, and the anatomy/histology/pathology TA program. Additionally, every incoming student in the school is assigned a faculty advisor, a professor who they can each keep in contact with and go to for advice.
There were many educational advantages to going to St. Matthew's University. Small class sizes made for a more intimate learning environment, with most faculty knowing their students on a first name basis. This also allowed faculty to more effectively assess individual students' strengths and weaknesses both in clinical knowledge and skill.
Students are given the opportunity to practice their clinical examination skills from an early start. There is one large examination room within the campus, fully equipped with examination tables, sinks, otoscopes, ophthalmoscopes, blood pressure cuffs, and other medical instruments. The skills imparted to me during my time in Cayman served to prepare me well for my clinical years.
SMUSOM students all sit comprehensive exams at the end of the semester, created by the National Board of Medical Examiners (NBME), the same organization that sponsors the USMLE. These exams are taken by students at U.S. medical schools and scored nationally, and are excellent ways to gauge your academic progression a national level. I highly recommend to all students to take full advantage of the NBME exams, because they are a great indicator of how you will perform in the USMLE examinations.
I'm very grateful that St. Matthew's gave me the chance to pursue my dream in becoming a physician. If medicine is your dream, let go of your fears because St. Matthew's will prepare you well. Your dreams will be fulfilled.