Louis Costanzo
Louis Costanzo spent his undergraduate years at Penn State before choosing St. Matthew's University School of Medicine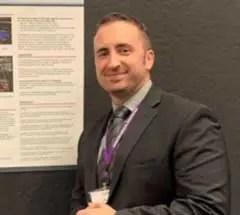 Louis Costanzo spent his undergraduate years at Penn State, and it wasn't until his last year of study that he realized he wanted to study medicine. Needing the necessary pre-requisites for medical school, he enrolled in the Post-Baccalaureate Program in Premedical Sciences at Harvard's Division of Continuing Education. While earning his post-bac in Boston, Louis helped out at Mass General Hospital as a Same Day Surgery Unit volunteer helping both patients and their families.
Louis learned about St. Matthew's University School of Medicine from a friend, and says "I was happy right away when I came. The living situation is easy. The dorms are right down the street from the classrooms. The professors were available 24/7 which was really fantastic. I actually have seen professors at 9PM at night!". Louis actively participated in campus life at St. Matthew's University School of Medicine, serving as both a Microbiology and Immunology TA as well as a Pathology TA. He was awarded the Brendon K. Roddy Humanitarian Award, and participated in the American Medical Student Association (AMSA) on campus. Finding time for sports was a priority, and he joined the tennis and baseball leagues on the island.
As a native New Yorker, Louis was thrilled to have most of his clinical rotations in New York, and to match where he wanted back home. "I am in a 3 year Internal Medicine Residency with an emphasis on Primary Care at SUNY Downstate Medical Center." For those looking at St. Matthew's University School of Medicine he shares, "It is a great school. The one on one ratio of student to professor really makes a difference. You can match into a program of your choice. It was a great experience for me".