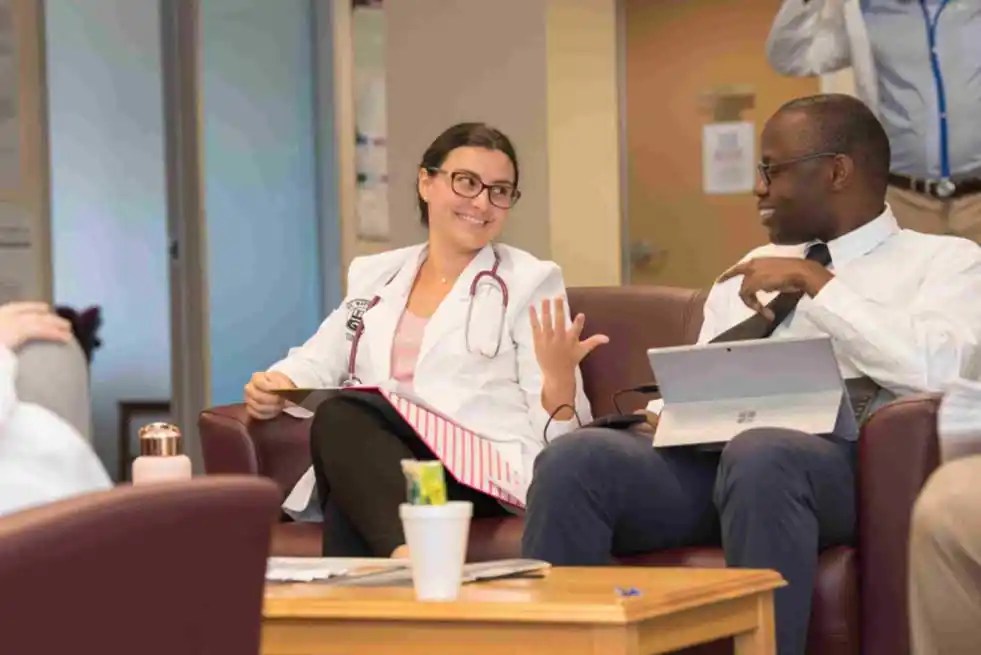 What Is a Medical Fellowship?
What is a medical fellowship? Should you consider it? What are the benefits? What's the difference between medical residency and fellowship? Read on to find out.
A medical fellowship helps you transition from a resident to a specialist and is a valuable time to form connections and access job opportunities. If you are interested in being fellowship-trained, here we'll explore what's involved–from entry requirements to salary.
What is a medical fellowship?
A medical fellowship is the training medical school graduates receive after completing their residency to become a specialist in their chosen field of medicine. During a medical fellowship, the physician (or "fellow") works closely with a specialist to deepen their experience and knowledge of their subspecialty. During training, the fellow may act as a consulting or attending physician. These training programs are only offered to top doctoral graduates, and being accepted into a fellowship training program is a high honor and distinction.
What is the purpose of a medical fellowship?
The purpose of fellowships is to create expert physicians in different subspecialties. After completing a fellowship program, a physician earns the title "fellowship-trained," representing the highest dedication to their field. Medical fellowships require a commitment to extra education. However, they provide significant, practical work experience, with fellows typically given a lot of responsibility early on. At the end of the program, physicians can practice medicine in their subspecialty without supervision.
What is the difference between a medical residency vs fellowship?
Residents have earned a medical degree but aren't fully independent physicians yet. They are still training during their residency and are not fully credentialed or board- certified. Fellows are fully- credentialed physicians who can independently practice medicine, yet want further training in their specialty.
Residents' salaries are considerably less than those of practicing physicians. Meanwhile, fellows also don't earn the same salary as physicians within their chosen specialty.
What do I need to do and have to get into a medical fellowship?
Each fellowship program has its own specific requirements. To be successful, a candidate must demonstrate strong leadership, interpersonal, and writing skills and be highly motivated, self-directed, and show integrity. The application process is extensive – it can include letters of recommendation, a resume, sample writing, and a transcript. You'll also be required to attend at least one interview.
How long is a medical fellowship?
The duration of a medical fellowship is typically one to three years, but it will largely depend on the specialization. For example:
Anesthesiology: 3 years plus PGY-1 Transitional/Preliminary

Dermatology: 3 years plus PGY-1 Transitional/Preliminary

Emergency Medicine: 3 – 4 years

Family Practice: 3 years

General Surgery: 5 years

Internal Medicine: 3 years

Neurology: 3 years plus PGY-1 Transitional/Preliminary

Neurosurgery: 7 years

Obstetrics/Gynecology: 4 years

Ophthalmology: 3 years plus PGY-1 Transitional/Preliminary

Orthopedic Surgery: 5 years (including one year of general surgery)

Otolaryngology: 5 years

Pathology: 4 years

Pediatrics: 3 years

Physical Medicine: 3 – 4 years

Plastic Surgery: 6 years

Psychiatry: 4 years

Radiation Oncology: 4 years plus PGY-1 Transitional/Preliminary

Radiology, Diagnostic: 4 years plus PGY-1 Transitional/Preliminary

Transitional/Preliminary: 1 year

Urology: 5 years (including one year of general surgery)
How to get into a fellowship program?
Before applying for a medical fellowship, thoroughly check the program's requirements to ensure you are eligible. You should then use the program's specific application forms to apply. Although each medical fellowship program is different, some of the information you'll typically need to provide in your application includes:
Personal statement
You'll usually need to provide a personal statement covering your educational objectives and why you would make a good candidate. Within your statement, talk about what makes you passionate about this particular field of medicine and why you've chosen this program. This is where you can add personality to your application and help selection committees understand you as an individual and physician.
Medical resume
A resume with relevant work experience, education, volunteering, awards, and published articles will showcase your abilities and make a compelling case for you to become a fellow. Remember that fellows are driven, hardworking, dedicated doctors prepared to go the extra mile, so ensure that's reflected in your resume.
Letters of recommendation (LoR)
Letters of recommendation or LoR are formal letters that support your skills and commend your professional performance without personal bias. Anyone who directly oversaw your work in medical school, residency, or medical volunteerism can provide LoR on your behalf.
Interview
Interviews provide a crucial opportunity for you to demonstrate your character and suitability for the program. Your interview is an opportunity to talk about how proactive you are, your problem-solving skills, and what steps you take to diagnose and treat patients. You must show the interviewers that you are efficient, capable, and passionate.
What is the average medical fellowship salary?
Medical fellowship salaries typically vary depending on the specific field of specialty. According to The Atlantic, the average medical fellowship salary in the US by speciality is:
Allergy and Immunology: $296,705 

Anesthesiology: $357,116 

Cardiology: $436,849 

Colon and Rectal Surgery: $343,277 

Dermatology: $400,898 

Emergency Medicine: $320,419 

Endocrinology: $217,610 

Family Medicine: $227,541 

Gastroenterology: $379,460 

General Surgery: $360,933 

Hematology: $376,660 

Infectious Disease: $205,570 

Internal Medicine: $223,175 

Medical Genetics: $158,597 

Medicine/Pediatrics: $205,610 

Neonatology/Perinatology: $290,853 

Nephrology: $306,302 

Neurology: $243,105 

Neurosurgery: $609,639 

Nuclear Medicine: $290,639 

Obstetrics & Gynecology: $315,295 

Occupational Medicine: $229,450 

Oncology: $341,701 

Ophthalmology: $343,144 

Orthopedic Surgery: $535,668 

Otolaryngology (ENT): $369,790 

Pathology: $302,610 

Pediatric Cardiology: $303,917 

Pediatric Emergency Medicine: $273,683 

Pediatric Endocrinology: $157,394 

Pediatric Gastroenterology: $196,708 

Pediatric Hematology & Oncology: $192,855 

Pediatric Infectious Disease: $163,658 

Pediatric Nephrology: $183,730 

Pediatric Pulmonology: $218,106 

Pediatric Rheumatology: $200,027 

Pediatrics: $206,961 

Physical Medicine/Rehab: $278,283 

Plastic Surgery: $407,709 

Preventive Medicine: $270,888 

Psychiatry: $227,478 

Pulmonology: $317,323 

Radiation Oncology: $418,228 

Radiology: $404,302 

Rheumatology: $244,765 

Thoracic Surgery: $471,137 

Urology: $381,029 

Vascular Surgery: $428,944
Is a medical fellowship worth it?
A medical fellowship program is a huge commitment that requires time, dedication, and considerable expense. But it can also provide a fantastic foundation for a successful career in medicine. Here is some information to consider to help you make a decision.
Pros of medical fellowships
Fellowship-trained doctors are specialists in their field and are highly sought after, and often highly paid.

Fellowships offer a great learning opportunity, providing hands-on experience and training, and working closely with experts in their field.

Medical fellows are highly respected medical professionals, and patients are likely to be more trusting of a fellowship-trained doctor.

You'll have the opportunity to train new fellows in the future.
Things to consider about medical fellowships
Competition for fellowships is exceptionally high, so you must have confidence in your ability.

Applying to different fellowship programs and funding interviews can be a significant financial burden.

You will need to remain dedicated to your area of specialty for many years.

There's considerable pressure for fellowship-trained doctors to perform and succeed.
Although becoming a medical fellow is a large commitment, it reaps life-long rewards in your career as a specialist doctor. Apply to St. Matthew's University today to learn more about starting your career as a doctor. Check out our latest open house events and webinars for an opportunity to network with alumni and other MD program applicants, receive advice on the application process, and learn more about academic and student life at St. Matthew's.
Get in touch for more information